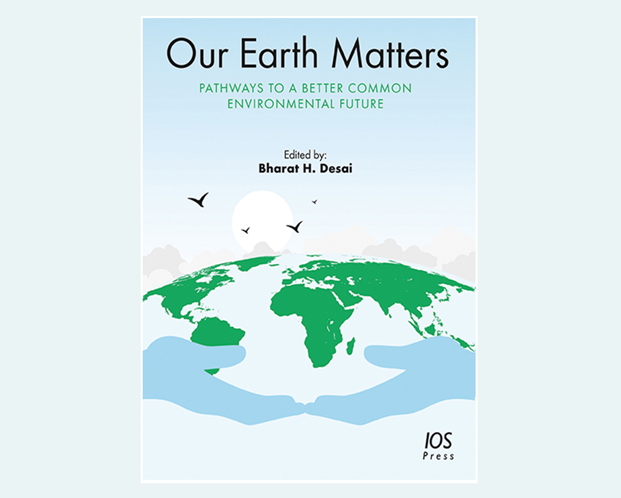 In 2020, our journal EPL underwent a transformation, with new branding and a distinguished new cover that conjures a vision of us working together (the hands) and opening ourselves up and being grateful for a healthy integration of nature and our living environment. 
In 2021, a similar approach has been implemented for the cover of our new book. The focus – naturally – is our planet Earth and the primary objective of the book is to raise the awareness of the global audience by inspiring scholars and decision-makers to re-examine current global approaches to environmental issues and explore the future trajectory with new ideas and frameworks for international environmental governance in the 21st century and beyond. The book will be of interest to all those working to secure a sustainable future for planet Earth.
The contributions urge us to ponder our reckless destruction of natural spaces, endangering of plant and animal species, poisoning of the environment, and general disturbance of our essential ecological processes. Various pertinent questions are also posed, for instance: What do we envision for the next 50 years? Do we need any major course correction in our global regulatory approach and the ethical underpinnings of the human–nature interaction? How do we leave a healthy environmental legacy for the next generation in the Anthropocene? 
Background
On May 19 2021 it was officially 3 years since it was recognized that we are now living in the Anthropocene, Earth's latest geological epoch, named for the "unmistakable imprint of human activities." This announcement came almost 60 years after the publication of Rachel Carson's landmark work of environmental writing in the book Silent Spring and, in 2022, it will be 50 years since the first UN Conference on the Human Environment, held in Stockholm in June 1972 (read more here). Now, therefore, it is an opportune time to probe the future trajectory for our better common environmental future.
Our Earth Matters: Book
This book presents articles – which are also co-published in the EPL special issue – by 21 experts and scholars that examine existing global regulatory approaches, processes, instruments and institutions for the protection of the global environment. The articles are grouped in four sections: Prognoses, Processes, Problematique, and Prospects, and in them the authors have sought to explore answers to the existential environmental crisis. They urge us to ponder our reckless destruction of natural spaces, endangering of plant and animal species, poisoning of the environment, and general disturbance of our essential ecological processes.
Contributions come from esteemed EPL Editorial Board members Edith Brown Weiss (Pace University Law School), David Freestone (George Washington School of Law), and Nicholas Robinson (Pace University Law School), along with environmental experts, decision makers and expert scholars affiliated to institutions in Australia, Canada, France, Germany, India, the Netherlands, New Zealand, Norway, South Africa, Sweden, Switzerland, UK, and USA. 
The book has been curated by Bharat H. Desai, PhD, Professor of International Law and Jawaharlal Nehru Chair in International Environmental Law, Centre for International Legal Studies, School of International Studies, Jawaharlal Nehru University, New Delhi, India. The book raises pertinent questions about how we might move ahead to forge those pathways to a better environmental future – what have the last 50 years taught us and what are the next steps and priorities? Dr. Desai comments: "Has it brought about changes in human mindsets, jettisoning of greed and defining our needs? What could be the new ideas, approaches, processes, regulatory tools, and institutional structures to address the 'world problematique'? It still continues to haunt us after 50 years."
Book details:
Title: Our Earth Matters
Sub-Title: Pathways to a Better Common Environmental Future
ISBN: 978-1-64368-178-8
Release: June, 2021
Editor: Bharat H. Desai
Format: Softcover, 238 pages
Language: English
List price = €121 / US$149 / £110
Order Your Copy!
The book can be ordered here and orders will be dispatch as soon as possible thereafter.