Webinar: Human Rights Day
18 November 2022
Register for the free event on December 9, 2022
Join the EPL webinar on December 9, 2022 which will be led by the EPL Editor-in-Chief Bharat H. Desai, PhD, and panel of experts to discuss the recent decision of the United Nations General Assembly (UNGA) to recognize the Human Right to a Clean, Healthy, and Sustainable Environment. This second part of the webinar will be a sequel to the first part held on September 20, 2022 (EPL webinar The Human Right to a Clean, Healthy & Sustainable Environment, recorded on Sep 20, 2022 - YouTube).​​  Read on for details and free registration. If you cannot attend, we will share a recording of the webinar in due course!
[Posted by: Reina Steenhuizen]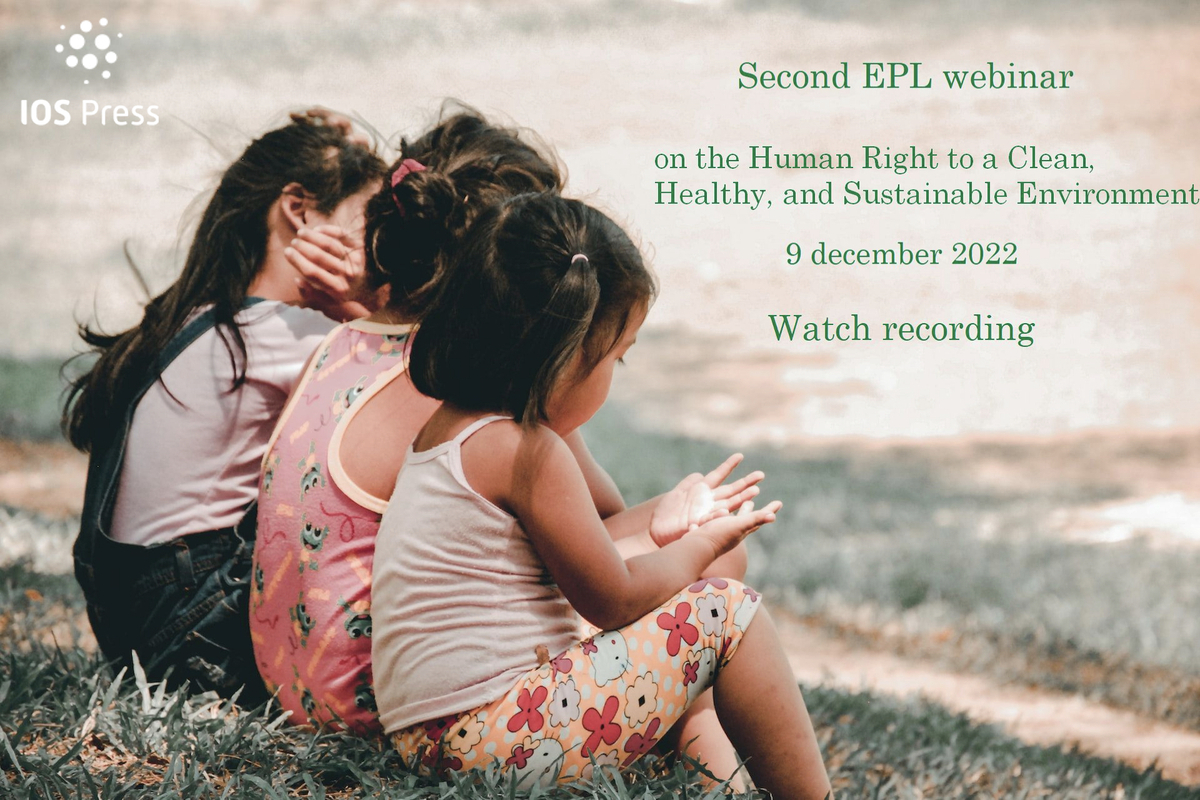 Banner photo by Charlein Gracia on Unsplash
Register now for this free webinar to be held on Friday December 9, 2022
At 08:00 AM (EST) / 02:00 PM (CET) / 6:30 PM (IST) | Register here.
The journal Environmental Policy and Law (EPL) and IOS Press is pleased to invite you to join this webinar.
The United Nations General Assembly (UNGA) adopted a landmark resolution 76/300 on 28 July 2022 on the human right to a clean, healthy, and sustainable environment. It follows the Human Rights Council resolution 48/13 of 8 October 2021. This EPL webinar seeks to make sense of the global significance of this advent of this normative development soon after the Stockholm+50 Conference (2-3 June 2022). The webinar has been scheduled on 09 December 2022, the occasion of the World Human Rights Day (10 December).
The discourse with a panel of eminent scholars and practioners will provide an opportunity to: (i) explain the context and significance for celebrating the UNGA's (and the HRC) emphatic recognition of the human right to (clean, healthy, and sustainable) environment for the SDGs 2030 as well as "other rights and existing international law;" (ii) normative value of the UNGA resolution for universality of the environmental human rights; and (iii) impact of the human right to the environment on treaty-based international environmental obligations, and observance of human rights of individuals and inanimate objects, as well as domestic policies, legislations, and litigations.
Program
Introduction:
- Bharat H. Desai, EPL Editor-in-Chief (Jawaharlal Nehru University, New Delhi, India)
- Marten Stavenga (IOS Press, Amsterdam)
Discussion moderator:
- Bharat H. Desai, EPL Editor-in-Chief
Panel of speakers:
Edith Brown Weiss, University Professor Emeritus, Georgetown University, Georgetown Law, USA
Christina Voigt, University of Oslo, Department of Public and International Law, Norway
Gunther Handl, Eberhard Deutsch Chair in Public International Law, Tulane Law School, USA
Anupam Jha, Professor of Law, Faculty of Law, University of Delhi, India
Camena Guneratne, Professor of Law, Department of Legal Studies, Open University of Sri Lanka, Sri Lanka
Claudia Ituarte-Lima, Senior Researcher, The Raoul Wallenberg Institute of Human Rights and Humanitarian Law, Sweden
Closing:
- Bharat Desai, EPL Editor-in-Chief
The webinar will last maximum 1,5 hours.
Supporting organizations:
– Global Pact Coalition

– International Council of Environmental Law 


– International Union for Conservation of Nature 
          

– Jawaharlal Nehru University
          
– Olof Palme International Center 

Anyone who participates on December 9 will be able to submit questions directly to the speakers during the event.
The recording will be available online afterwards.